Coastal Aviation Services is a fully qualified aeronautical consulting firm that has been providing a broad range of aircraft interior completions and maintenance consulting services to owners/operators for more that fifteen years.
Whether you are purchasing a new aircraft or refurbishing an older aircraft – Coastal Aviation can manage and oversee every aspect of your aircraft retrofit project.
An aircraft completion or refurbishment project involves many moving parts, Coastal Aviation functions as your knowledgeable advocate with the many engineers, designers, fabricators and installers involved in the project.
We ensure that through each stage aircraft completion project the highest standards of craftsmanship, technical precision, efficiency and attention to detail are adhered to.
With a keen process developed over our many years of business, our team has overseen the completion and refurbishment of numerous Gulfstream, Bombardier, Falcon Jet, and other long range, large cabin aircraft.
Single Point of Accountability from Concept to Delivery
Coastal Aviation is your professional aircraft completions management partner! If you are considering the purchase of a new aircraft to be completed according to your personal preferences, our team provides one single point of accountability for your project.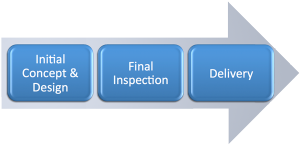 Managing all the various facets of a completion can be overwhelming. As your partner, we can be your expert throughout the entire process and will provide you with detailed progress reports including photographic and video coverage of the project.  We understand time and budget parameters keeping that acutely in focus as we utilize an individualized approach with clear document definition and a detailed understanding of your exact preferences.
Coastal Aviation will be on-site with your "green" aircraft to observe it right from the start in the factory. We have found that being on-site to manage and observe the green aircraft build is fundamental to having an aircraft that meets the buyer's highest objectives in quality and keeping it on schedule. When the completed green aircraft moves to the interior completion facility, our team is there before the aircraft arrives, to meet with the design team, review the completion specifications, and ensure the owner's requirements, expectations, and latest revisions are incorporated.  The same critical, comprehensive and individualized approach is also taken with aircraft refurbishment projects.
No other aircraft completions management company in the world will provide the attention to detail, the consistent communication and customer service that you will experience with Coastal Aviation. In fact, Coastal Aviation limits the number of completions or major refurbishments we manage and advise on at any one time so we can give your project our undivided attention.
Managing new aircraft completions or major refurbishment and modification projects is the central focus of Coastal Aviation  – it's what we do every day for over 15 years.
Key Management
Gary Pugh, President/Owner
Gary Pugh managed several corporate avionics facilities including Jet Aviation of Boston prior to founding Coastal Aviation in 2001. His 35 years of aviation experience encompasses corporate, private and military aircraft. Gary has logged over 2,000 hours of flight time as a military flight engineer and held duty at the Marine Helicopter Squadron One, Quantico, VA. He holds an FAA General, Airframe, and Powerplant, IA and FCC ratings with a Bermuda EASA endorsement receiving FAA ratings at the National Aviation Academy in Bedford, MA and is a member of the FAA Fast Team. Gary is well known throughout corporate aviation industry for his expertise, professionalism, and integrity.